Contact
Telephone:
08151 – 970 17 37
Fax:
08151 – 998 50 25
Address:
Maximilianstr. 17
82319 Starnberg
Mail:
anmeldung@radiologie-starnberg-privatpraxis.de
Surgery Hours
Mon, Tue, Thu
8:00 am to 6:00 pm
Wed, Fri
8:00 am to 2:00 pm
As well as by arrangement
As a specialist practice for magnetic resonance imaging (MRI), we work with the latest 3.0 Tesla high-performance MRI (Magnetom LUMINA Siemens) with a comfortable tunnel diameter of 70 cm. We use high-resolution multi-channel coil systems for the examinations of the individual joints with individually adapted examination protocols, depending on the problem. Currently, no coil systems or MRI systems exist that could surpass these technical possibilities and achieve better image quality. Even during the first measurements, the radiologist evaluates the images in order to further optimise the examination if necessary. The diagnosis is made on workstations (Medigration), which automatically display the patient's previous images to compare the findings. Even if you were a patient with us several years ago, you do not need to bring the previous images with you.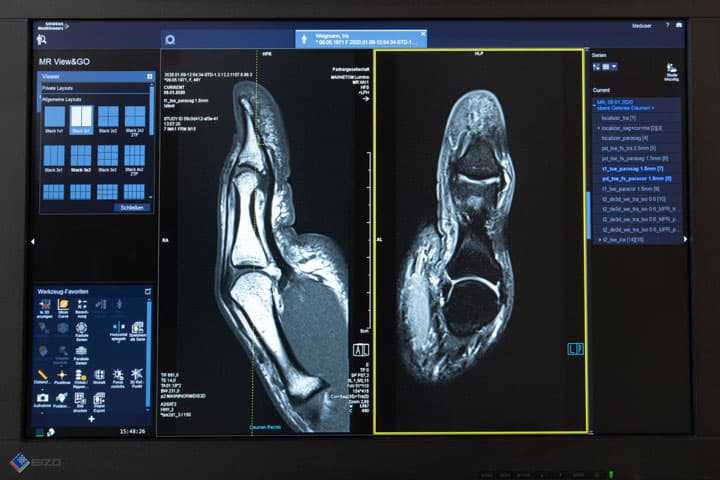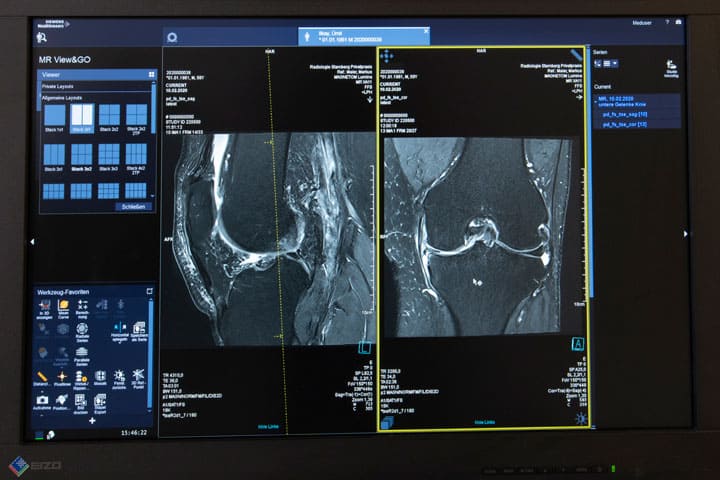 Magnetic resonance imaging (MRI)
The most important prerequisite for recognising pathological findings is optimal image quality. This is the only way to diagnose even the smallest changes that cause discomfort (e.g. a small herniated disc that presses on the nerve) and thus to treat them correctly.
We use several components for this high-resolution image quality
3.0 Tesla high-field magnetic resonance tomograph LUMINA, due to the high field strength even the smallest structures can be displayed.
Latest multi-channel coil systems, specially designed for the individual organs/joints: (16-channel hand, 16-channel shoulder, 16-channel foot, 18-channel knee, 18-channel chest, 18-channel abdomen/pelvis, 16-channel head/neck) for optimum image quality.
Special sequences (imaging protocols), individually adapted to the symptoms and questions, which are characterised by a particularly thin layer thickness and high detail recognition.
Special workstations for the evaluation of findings, which can interactively process the findings even further.
Contact
Telephone:
08151 – 970 17 37
Fax:
08151 – 998 50 25
Adress:
Maximilianstr. 17
82319 Starnberg
Mail:
anmeldung@radiologie-starnberg-privatpraxis.de
Surgery Hours
Mon, Tue, Thu
8:00 am to 6:00 pm
Wed, Fri
8:00 am to 2:00 pm
As well as by arrangement